Reduce, re-use, recycle – all good for the environment, but also good for the bottom line. Specialist rail sector uniform supplier Jermyn Street Design (jSD) should know, as the company has been creating sustainable uniforms for over four decades.
Three major rail companies, Eurostar, GWR and South Western Railway, have collaborated with jSD to develop increasingly sustainable uniforms to reduce the impact of the clothes staff wear for work have on the environment. All areas of design, manufacture, distribution, care and disposal have been addressed to minimize their footprint. 
From the company's early days, when jSD pioneered the first all-natural uniform for the Body Shop in 1994, designing with natural resources at front of mind has been important.  The company's latest development is a Green Thread Range of customizable and sustainably sourced workwear. The sole aim of this is to enable any brand to migrate its employees to a sustainable uniform without disruption or waste in a managed, step-by-step transition, which any employer can adopt.
jSD Founder Susanne Malim explains their philosophy: "We know that it can be overwhelming to know where to start, but by following a well thought-out plan the result is not only a valuable and visible uniform, but also one that reduces environmental AND business costs. If you plan to get it right first time, and create a uniform with durability and which uses less resources, everyone wins."
jSD encourages clients to begin the process with an audit of the materials in an existing range, to establish what can be done to make positive changes by a transition to more sustainable fabrics.  Simply replacing fabrics, zips, buttons and other trims on an existing design with either recycled or natural materials can have a significant impact. Eurostar has started to transition from standard polyester to recycled polyester, following successful wearer trials. Recycled polyester/viscose/lycra fabric is being used by GWR for a more sustainable tailoring fabric.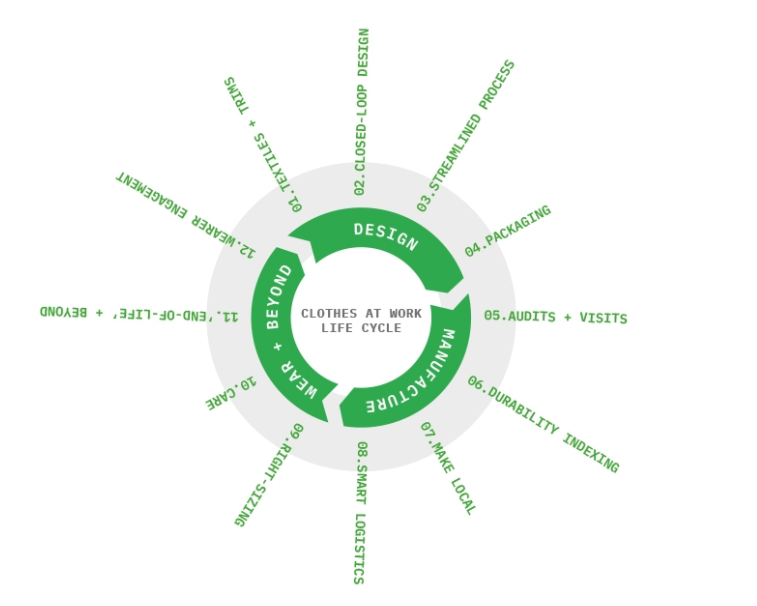 The 12 steps to sustainability (credit: Jermyn Street Design)
We are all now educated on the impact of packaging and the need to eliminate single use plastics. But bulky packaging also increases distribution costs. A combination of using recycled, recyclable or compostable packaging with the streamlining of deliveries into multiple garment sets has multiple benefits. jSD has even created a custom method of packaging shirts, without all the plastic clips and collar stays that are usually used.
Continuing the focus on transport and distribution leads to further reductions in the carbon footprint of a uniform range. Supply chains must be configured to minimize the impact of transport. Dual supply closer to home is often the solution, and there are many outstanding UK or European suppliers which offer an eco-efficient and practical solution to manufacture.
Another often overlooked consideration is garment care.  jSD encourages clients to adopt fabrics that can be washed at 30 degrees or cooler, and is now running 'cold wash' trials with clients. Washing at cooler temperatures not only saves energy and puts less pollutants into the water supply, but also extends a garment's life. 
Some of the 12 Steps established by jSD may seem obvious, such as selecting sustainable fabrics and packaging, while others are rather more unexpected, such as planning the end of a uniform's life. This area is often overlooked, but you need to complete the picture beyond manufacture, distribution and wear. The end of a uniform's life is often where the biggest gains can be made. jSD helps clients to identify the best approach for them, whether it is de-badging for re-use and upcycling by charities, or recycling into new fabrics or even biofuel.
Other elements of the 12 Steps programme include designing for recycling, streamlining processes to reduce lead times and the number of samples made, and 'right sizing' using the latest sizing technology. Ultimately, much of the success of a uniform and its sustainability lies with the people who get to wear it, so a large emphasis is placed on wearer wellbeing through wearer engagement. 
The importance of wearer engagement was never more evident than with the work jSD did with South Western Railway. Unions and staff became key stakeholders in the uniform design process, and took part in staff focus groups throughout the design process. A Sizing Roadshow followed, and Waterloo SWR Uniform Store was utilised to create the fastest, most efficient and staff friendly way to manage the on-going supply and distribution of garments. The result was an increase in wearer engagement and garment returns were all but eliminated.
In developing the 12 steps, jSD was focused on ensuring that the programme brought operational and cost benefits as well as environmental ones for clients.  Instantly it becomes a central business argument that all departments can get behind and see the benefits of, whether it is finance, HR, marketing or legal. 
Susanne concludes: "Sustainability must become business as usual across all industries. We appreciate that it is difficult to know where or how to begin, but it is something that is becoming more and more urgent. We have found though that once a business takes that first step, it inevitably leads to the next and opens up a new way of thinking about all areas of business operations. It is an evolving process, but one which generates instant and lasting benefits for the business and the planet."